Merry Makers Central Coast is run by a team of passionate and dedicated volunteers. If it wasn't for the hard work carried out by these volunteers, Merry Makers would not be able to operate.
Our volunteers take on many roles including:-
driving buses to pick up clients and take them to events
setting up the hall for the weekly dances
organising and playing the music at the weekly dances
master of ceremonies at the dances
organising and distributing prizes at the dances
preparing and distributing refreshments
organising and catering for the monthly outings and dinner dances
collecting fees and keeping records of the dances and outings
as well as completing the many office tasks which help keep Merry Makers running
Volunteers Wanted
We are always in need of more help. If you are interested in helping us out, or know someone who may be able to, please do not hesitate to contact Volunteering Central Coast or contact us direct using the Registration Form to the right.
At the moment we are looking for help in these areas:-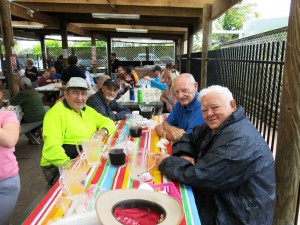 Merry Makers Volunteers
Dance Volunteer (To assist and join in dance on Thursday nights. 7pm to 9pm.)
Hall Set-up Person (To set up hall for dance every Thursday nights – start 6.30pm until 9.15pm)
Driver for Coaster or Sprinter (Drive a community transport vehicle on Thursday nights to pick up intellectually disabled clients to transport to and from a weekly dance evening.  Pick up 5pm and drop off at 10.15pm.)
 The Committee